Jeweled in decor and tradition of times past, the Amphawa floating market in Samut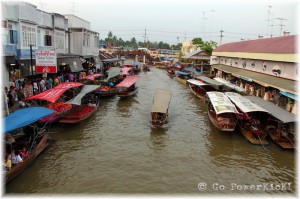 Songkram is a living history book. Thai floating markets offer a glimpse into what life was like years back when the country's canals served as the vital arteries for merchants selling their wares. Most tourists visiting Bangkok are shuttled to the well popularized Damnoen Saduak floating market, which offers great photo opportunities and an idea of what canal markets were like; however, the atmosphere boarders on touristy and overcrowded.
The floating market in Amphawa carries a truly authentic feel. The canal is about a half mile long and is occupied on both sides by rustic wooden row-houses built in traditional Thai style, with tall wooden doors and wooden floors. The front living areas of most houses double as store fronts, restaurants and even homestay lobbies. If you peek in towards the back you might see stairs leading up to the homes above or families unwinding over some snacks talking and laughing. Vendors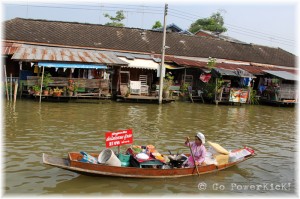 along the canal's footpath sell a variety of goods ranging from snacks and popular Thai desserts to t-shirts, toys and other local hand-made souvenirs.
The market doesn't really get into full swing until around 1pm, but it does stay buzzing til about 9pm in the evening. If you arrive early you can see boats floating up the canal making their way towards prime dock space to set up shop for the afternoon. Boats dock single file in front of small canal-side benches where the hungry can place orders and sit to enjoy a meal. Others park their boats, bow-first, in packs facing the walking path near the main foot bridge.
Endless displays of shrimp, whole fish, pad-thai, noodle soups, papaya salads and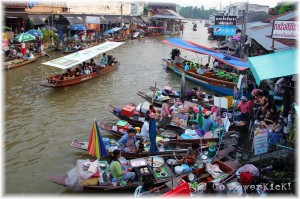 french fries are ready to be cooked right in front of you. Watching the chefs whip up meals while sitting in their boats, then passing plates to runners scurrying from boats to the walking path is a spectacular mix between controlled chaos and a well choreographed dance routine.
When the sun begins to go down bands set up in cafes and restaurants along the water and music resonates; providing a perfect place to relax, eat again and have a few drinks. An additional evening treat in Amphawa are the firefly tours. For 60 Baht a person ($2.00) visitors can sign up to take an evening boat ride on the river to see the notorious fireflies. Lasting about an hour, the boat captain navigates the dark waters pulling up to the trees along the river bank so passengers can see the fireflies light them up like Christmas trees.
The Amphawa canal is one of over three hundred in the area which feed into the Mae Klong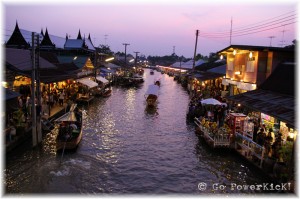 River. Strolling the length of the canal is a great way to put life back in the slow lane and also witness traditional Thai ways of life. The market is not heavily populated with foreign tourists; however, Bangkokian's and other locals seem to know it well.
Crowds flock here during the weekend  to shop, eat and relax. To get an unobstructed walk along the canal I'd recommended strolling early in the afternoon or later in the evening. Just an hour and a half from Bangkok, Amphawa is a different and unique slice of Thai life. A trip here is definitely worthy of a line on the 'To-Do List' when visiting Bangkok. It provides a good look into just why the Kingdom carries the name 'Amazing Thailand.'
Comments
comments
More Good Reads!










Share
About Author
(0) Readers Comments