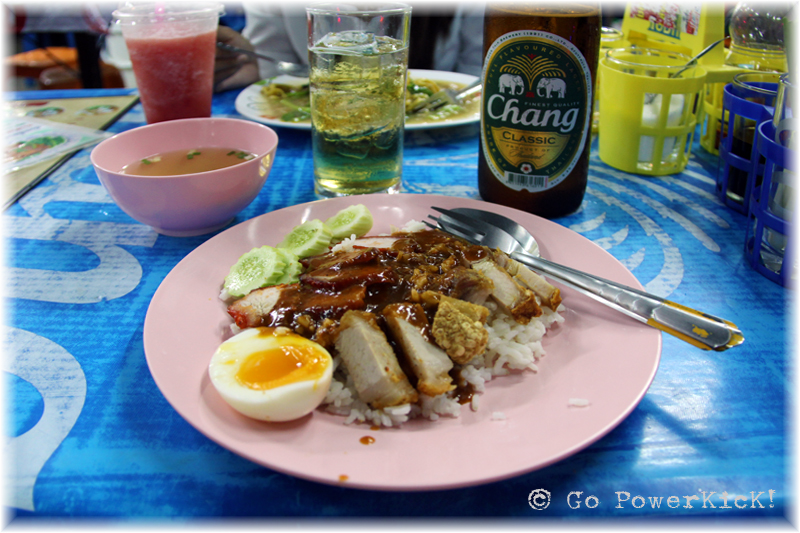 Street food in Thailand is something unique. Trekking throughout city, it's hard to miss the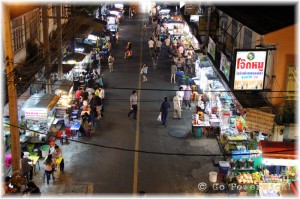 'shift changes' as day and night vendors position their carts at their chosen locations to capitalize on the constant foot traffic. For most in the country, daily life begins in the morning and ends in the evening sitting at, standing in front of or beside a street cart for a meal.
Last night was a warm night in Bangkok and visiting a street cart to sit in the warm air for some good food and a few cold beers seemed like a perfect idea. I decided to check out a street food institution I'd heard about on Sukhumvit Road Soi 38. The Soi sits right at the base of the Thong Lor BTS stop and mixes the chaotic environment of a market with the abundance of vendors in a food court, creating a rather distinct atmosphere. Both sides of the Soi are filled with carts and wok's selling everything from stir fry to noodles to pork, chicken and duck served any way you can imagine.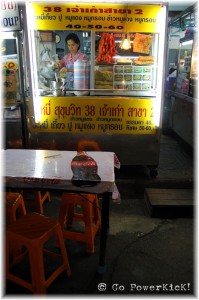 As I parked my motorcycle at the entrance of the Soi and began walking down I was slightly overwhelmed. I arrived with a healthy appetite and with so many choices my stomach was pulling me in all directions attempting to find the best looking dish on the block. I saw a noodle cart with red pork and crispy pork hanging in the window. As I walked in for a closer look the restaurateur quickly began spouting off their specialties and handed me a menu. I couldn't decide on red pork or crispy pork so I asked if they could do a 50/50 split. A quick head-nod and my order was confirmed for khao naa moo grop moo daeng, a bed of rice topped with half crispy pork and half red pork. I made sure to sneak in my order for a COLD Beer Chang to fight off the heat of the night.
After ordering from the cart I was ushered into a small dining area just off the Soi. The room was packed and I looked for an empty table. As I sat down the wait staff from surrounding carts walked by, handed their menus and asked if I wanted to order additional dishes. I soon realized this was sort of a communal dining room for the 4 carts on this part of the Soi. It looked like as long as you were sitting here you could order from any of the carts and eat, drink and enjoy.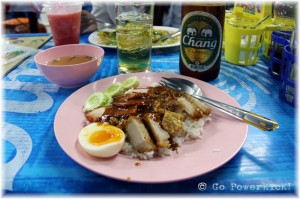 I sat and began pouring my beer. Before I could finish pouring, my food arrived at the table. I paid 95 Baht ($3.00) for the meal and beer and took a look at what just arrived. The rice was scooped  in a neat pile and two even columns of red pork and crispy pork were placed on top. Drizzled over the pork was just the right amount of gravy, so as not to soak the rice. Rounding out the dish was half a hard boiled egg, sliced cucumbers and a bowl of soup.
From the first bite to the last, the crispy, fatty and juicy pork mixed with the sweet, tangy gravy had my taste buds doing the tango. Washing it all down with a cold Chang had me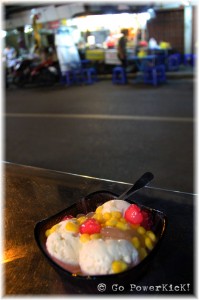 wondering if these two weren't always meant to be paired together. With a cleaned plate in front of me my appetite and thirst were quenched. It should be noted that there were no tissues or toothpicks available at the table, so if you visit Soi 38 you might want to bring your own.
With a little room left in my stomach for some dessert I strolled the rest of the Soi to see what was available. I found a cart serving homemade coconut milk vanilla ice cream and was stopped in my tracks. I ordered a few scoops and took a seat. What arrived at the table was a masterpiece that looked too good to eat. The bowl came with 3 scoops of ice cream and perfectly sprinkled toppings of corn, palm seed, yam beans and covered strawberries. I don't know if it was the heat or the tasty ice cream, but as quickly as it arrived at the table the bowl was empty. On a hot night in Bangkok you really can't ask for much more!
Comments
comments
More Good Reads!










Share
About Author
(0) Readers Comments