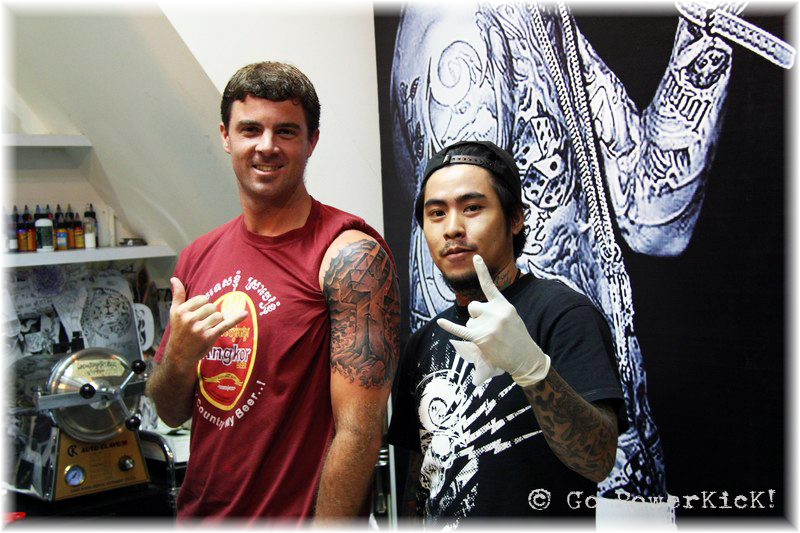 For a while I've had a pretty good idea of what I wanted to get, it's just been a matter of when and where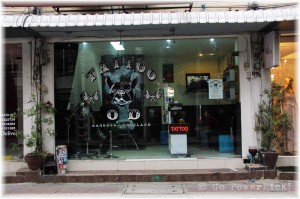 to get it. Since 2007 I've had sketches drawn up in San Francisco, Honolulu and Bangkok. Finding an artist who could conceptualize my idea and put it on paper has been my main challenge. It's taken about 5 years; however, I was finally able to fit all the pieces together and go 'under the gun' for my first tattoo.
Locating a reputable studio with talented artists was a challenge even while living back home in the Bay Area; attempting this in a foreign country has been an even more difficult task. While discussing tattoos with a friend a few months back he told me about a shop in Bangkok's Thong Lor neighborhood, on Sukhumvit Soi 53, that did tattoos for the Thai hip-hop group Thaitanium and was known to do good work.
With an unassuming exterior, mixed amongst the neighboring boutiques, if you weren't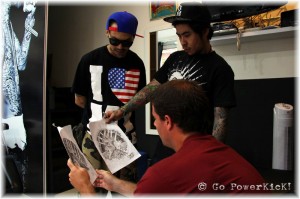 looking for Tattoo OD Studio you might walk right past. Occupying 2 floors, the shop has 4 to 5 artists handling walk-ins looking to get inked immediately or those like me looking to have a slightly more 'custom' design drawn up. The atmosphere of the shop is a fusion between an old school barbershop and a back-stage concert dressing room, with plenty of excitement and chatter to get your adrenaline pumping.
Prior to my first meeting I got some sage advice from my buddy Annile. He said "A good visit with an artist should feel indistinguishable from a visit to your primary care physician; clinical and consolatory." With nervous excitement running through me on my motorcycle ride to the shop, I rehearsed exactly how I would describe my tattoo trying not to leave anything out.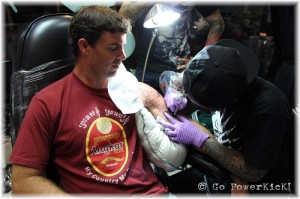 I walked in and met Petchy, the owner, and we began talking about my idea. He called over one of the artists, whose name I would soon learn to be "Snot," and translated my description in Thai. Observing this exchange I could see the wheels turning. After a few moments Snot replied "Dai, Dai," which in Thai means 'Can do.' Dispatching Snot to work on the design, Petchy said to come back in a week to check it out.
1 week later the first design was done and it had all the pieces I was looking for. I offered a few small tweaks and changes, and after a few back and forth's it looked just the way I'd imagined. I was extremely pleased as no time or details were compromised until I was 100% satisfied with the design. Then, it came time to pick the big day.
Not wanting to miss any of the action I asked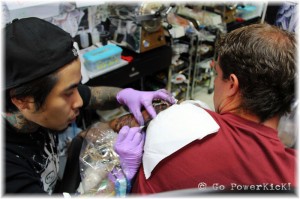 one of my MBA classmates, Wai, if he was free to come and take some photos while I got the work done. As an avid photographer, he happily agreed. Monday October 15th came quick. I began my day as normal, yet time seemed to be moving rather quickly. I attempted to study for a mid-term exam, but my mind was unable to focus so I opted to give myself the day off.
Upon arrival at the shop, we looked over the sketch one last time. Nervous like a school boy sent to the principal's office, my thoughts were racing. Then it began. First, my arm was shaved to make a smooth surface. Next, a stencil outline was pressed onto my skin which I reviewed in the mirror and gave a thumbs-up. Then, like a skilled surgeon, Snot began preparing his workspace. He laid down saran-wrap to keep a clean surface, wrapped the antiseptic spray, pulled out freshly packaged needles, filled ink cups, then assembled, wrapped and test fired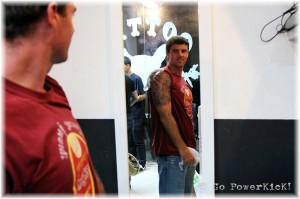 the gun. The bzzzz bzzzz bzzzz of the gun confirmed it was time to rock and roll.
A pillow propped up my arm and created the canvas for Snot to work on. For three and a half hours as fellow artists and others getting tattoos looked on, the sound of the gun, the smell of the ink, the sight of the blood and grimaces from the enduring pain filled the first floor of the shop….until the gun silenced for the last time. I stood up and walked to the full length mirror to take my first look. It was big, it was bold and it was just what I was looking for. I looked at Snot and said "Very nice, great job, Kap Khun Kap!" The other artists and onlookers in the shop gave a few thumbs-ups and head-nods of approval. Snot quickly grabbed his iphone and asked to take a few photos of his work, which he quickly uploaded to instagram. With everyone satisfied, my arm was wrapped, I was given directions on how to care for it and I was on my way.
Personally, I think living abroad or traveling offers an opportunity to memorialize ones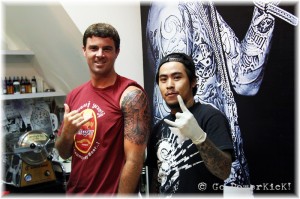 experiences in many different ways, body art happening to be one. Society can have mixed views on body art, however, it's an individuals unique way to say or show something meaningful to them. If you're in Asia and feel the urge to venture over to the other side and get some ink, stop off in Bangkok and check out Tattoo OD Studio. People say tattoos can become an addiction, the first one opens the door and within a year the next design is in the works. For now I think 1 is enough for me, but I don't have a crystal ball so we'll see what the future holds.
Comments
comments
More Good Reads!










Share
About Author
(0) Readers Comments