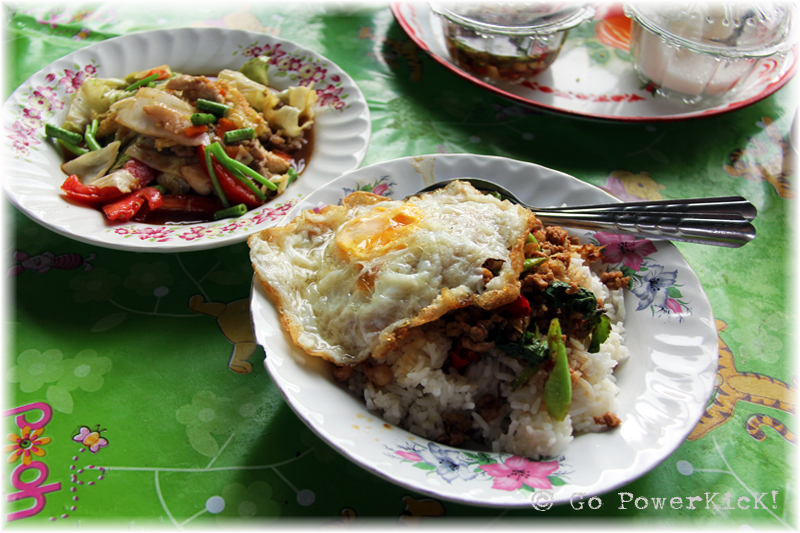 It didn't take long after arriving in Thailand to learn how common it is to grab a meal right on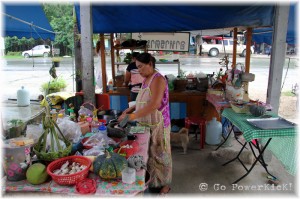 the street. A restaurant shortage is far from the cause. Rather it's the ease of finding a cart or stand armed with a propane tank, a burner and a wok. From this spartan kitchen some of the most delicious and inexpensive meals can be whipped up right before your eyes. Visitors often ask for recommendations of where to eat when visiting Thailand. The usual answer comes with 1 or 2 traditional sit-down type eateries to help with the acclimation process, but shortly after directions lead straight to the street carts. With the abundance of roadside restaurateurs you really never have to worry about finding something great to eat at all hours.
After a full day of riding through Kanchanaburi visiting museums and temples I sat at the mid-mountain lookout of Wat Ban Tham watching the afternoon monsoons approach. Fighting off the thought of riding home in the rain, I followed my urge to hike to the top and see if the view could possibly get any better. From the top the view was spectacular, yet bitter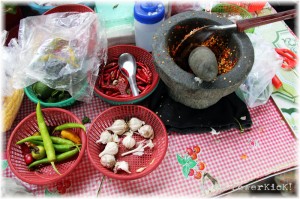 sweet. Looking over the valley I was reminded by the dark clouds that I was most likely going to get wet on my ride home. Zipping back along the river front road the engine, my stomach and the thunder were rumbling in unison…while the rains closed in.
Quickly becoming too much to ride through I pulled off the road directly into a road side 'restaurant,' in what looked to be the front yard of someone's home. Two hospitable chefs were there to greet me and we were soon discussing the menu. Our Thai and English found common ground at the elementary level and our conversation soon turned to fragmented sentences, quizzical stares, hand gestures and body language. I noticed their 2 wok's and figured anything stir fried was certainly in the ballpark. In my best Thai accent and tone I ordered Kra Pao Moo Kai Dao and Pad Pak  (Stir fired pork served over rice with a fried egg and a side of stir fried vegetables).
Without hesitation, and with big smiles, the ladies began scurrying about slicing vegetables, slicing pork and heating up the wok. When asked if I wanted it spicy I quickly confirmed.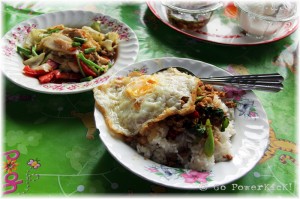 With the kitchen just over my shoulder I walked to see just how spicy it was going to be. Next to the wok I saw a mortar and pestle filled with crushed chilies which were being spooned into the frying pork; I began to wonder if I'd ordered the "5 alarm fire." The food arrived quickly and I was ready to Kin Khao! (Eat in Thai)
There is something unique about the taste of street-side food. I like to think you can taste the chef's passion for creating provocative traditional tastes and their desire to make sure the customer is satisfied. My Kra Pao was extremely flavorful and I was well beyond satisfied. I paid my compliments to the chefs, paid my bill and bought a rain poncho before I rode home. As I was leaving the ladies asked if I'd be back again. I wish I could have said yes, but unfortunately it might be a while before I'm back in Kanchanaburi. Until then I'm going to continue to eat on the street!
Comments
comments
More Good Reads!










Share
About Author
(0) Readers Comments