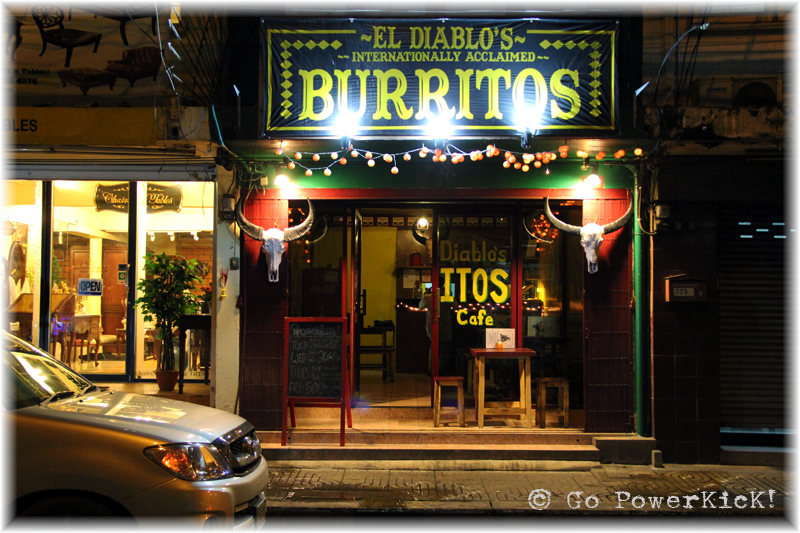 As a Bay Area California native I've been spoiled by easy access to authentic Mexican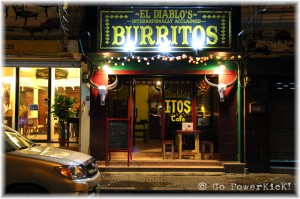 food. When I was living a short scooter ride away from the Mission District in San Francisco I was always able to satisfy my Mexican food cravings. Now, living in Bangkok the cravings still exist, however, scratching the itch is slightly harder. Bangkok has a handful of locations dishing up Mexican favorites, and I've tried my best to sample most. I recently had a chance to eat at El Diablo's Burrito's for the first time, which is located on Sukhumvit Road Soi 22 and has all the feelings of back home.
El Diablo's is a father & son success story. Originally from New Orleans, the Murphy's settled in Chiang Mai in 2005 where they opened their original El Diablo's restaurant. With a simple menu,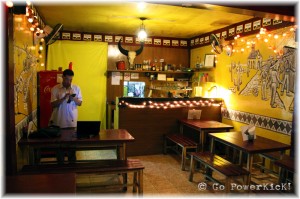 homemade ingredients and their down south hospitality, El Diablo's became a success. In 2011 Seamus headed south to Bangkok to open a branch in the big city. The location has a striking similarity to the hole-in-the-wall taco shops found in San Diego, with one major difference. Inside the walls are decorated in bright yellow with a life sized 'Dia de los Muertos' mural of skeletons, who seem to greet you as you enter. Being a small street-front restaurant it comfortably seats about 30 customers. After an initial greeting by the skeletons, owners Seamus and Anthony are quick to say hello, show you to a seat and bring out a basket of homemade chips and salsa.
Kicking off the homemade touch are large, freshly cooked tortilla chips brought to the table accompanied by homemade salsa and guacamole. The salsa is made with fresh ingredients and has a slight smoky taste from the roasted peppers and tomatillos. The mountainous serving of
homemade guacamole was a welcome addition for 75 Baht. If you need more spice Anthony is happy to offer up a jar of fiery chili paste which you can add to your salsa to crank up the heat; careful it packs a punch! Beer always goes well with chips and salsa and when I heard Beer Lao was on the menu I was sold.
El Diablo's sticks to a one page menu featuring traditional Mexican classics like nachos, burritos, tacos and quesadillas. The straight to the punch menu makes ordering easy and keeps a constant focus on the quality of the food and not the size of the menu. I'm a burrito guy, and if there's a Carne Asada burrito on the menu 99% of the time I'm diving in. Burrito's are in the name of the restaurant and on the menu, I was in luck!
For 225 Baht ($7.50) the Carne Asada burrito comes served in an oversized soft flour tortilla topped with pico de gallo salsa, roasted salsa, sour cream and jalapenos. Unlike burritos back home that come wrapped in tinfoil and are easy to eat from your hands, this burrito is stuffed to the edges and definitely requires a fork and knife. I sliced into the middle to take my first bite and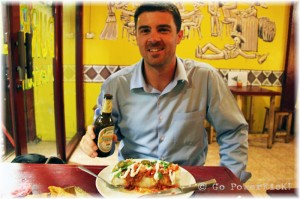 was greeted by overflowing amounts of seasoned beef and Mexican-style rice and beans. The beef was cooked to perfection allowing the flavors of the carne asada to fill each bite.
El Diablo's location is slightly off the main tourist footpath of Sukhumvit road, however, if you're craving authentic Mexican it's worth the trek. With John Denver playing over the speakers, a few cold Beer Lao's and California style Mexican; my experience was just what I needed. Rumor coming from the kitchen is that enchiladas are a potential addition to the menu in the near future. I'll definitely be back for those as well as the taco's, quesadillas and margaritas; which El Diablo's believes are the best in Thailand.
Comments
comments
More Good Reads!










Share
About Author
(0) Readers Comments