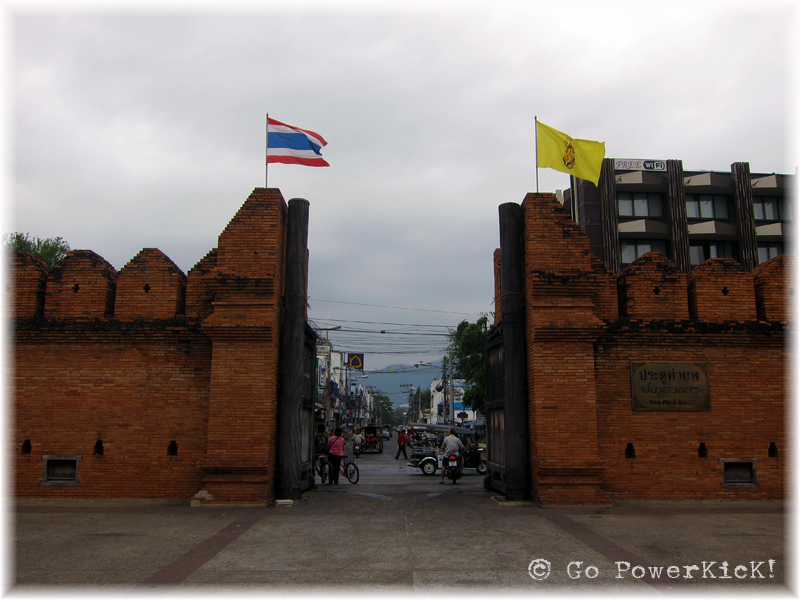 An hour north of Bangkok by plane, with a backdrop of lush green mountains, rests the peaceful refuge of Chiang Mai. A popular destination for visitors around the globe, many come to see the landscapes, enjoy the weather and partake in the exciting activities. Below are 6 activities I've enjoyed that I'm sure will leave you itching to come back.
1. Temple Walking Tour – While this is no hidden tour, it does offers a great way to explore the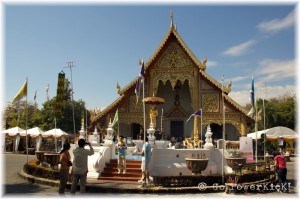 many temples in the Old City. The tour winds through the streets of the old city and you're able to see temples of varying age and structure. Depending on the day, the possibility of seeing a procession of monks or a festival of some type is not a far off thought. If your curiosity about Buddhism peaks, you can stop off and have a chat with a few monks at Wat Chedi Luang. One of the larger temples is Wat Phra Singh; it's quite spectacular so definitely try not to miss it!
2. Cooking Class – It takes just a few meals after touching down in Thailand to quickly realize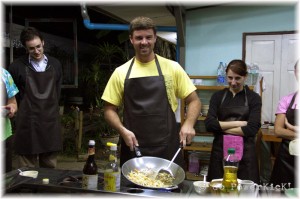 how delicious the food is. There's no better way to see how all the magic comes together than to experience it firsthand. Chiang Mai offers an assortment of cooking schools that provide full and half day cooking classes. Both come with a trip to a local market to see and learn about the ingredients as well as watch how they're purchased. Then it's back to the kitchen to get the burners going to create 4 dishes of your own. I recommend the Asia Scenic cooking school; their instructors were fun, friendly and extremely knowledgeable. The experience was much better than being in Hell's Kitchen!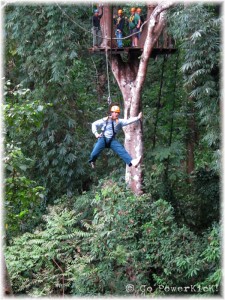 5. Flight of the Gibbon – Zipping amongst treetops in the jungle never sounds like a bad idea. Just outside of Chiang Mai is nearly 1.25 miles of ziplines in the trees allowing you to swing through the forest just like the Gibbon's who inhabit the area. A brief introduction is given upon arrival then it's time to harness up. The staff is extremely lighthearted and likes to make jokes about the safety equipment to get your blood pumping during pre-flight. Not to worry, all equipment is top of the line and safety is #1. With helmet and harness on it's just a short walk before locking onto the line and zipping off platform number 1. All 18 platforms take about 3 hours to complete and the entire time is nothing but laughs, screams and smiles!
3. Elephant Adventure – The elephant is a revered creature in Thailand.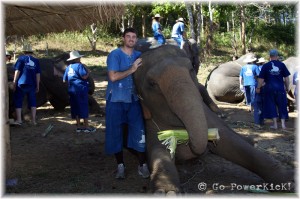 For centuries they've been used in war, logging and tourism. The Baan Chang Elephant Park is a fantastic place to learn how to be an actual Mahout, the name given to an elephant handler. The park rescues their elephants from poor conditions and provides them with a more natural and relaxed environment. A one day trip to the park is spent learning how to feed, control, ride and wash your elephant. Once these basic skills are learned its time to take to the jungle for a ride. Working with and being around these gentle giants is an amazing experience.
4. Tiger Kingdom – A pick-up truck taxi from the center of town will get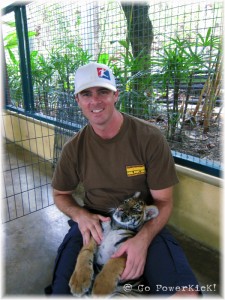 you to the Tiger Kingdom in about 30 minutes. Once you arrive, there are 4 options for viewing and playing with the tigers and each lasts about 15 minutes. Options include small tigers (2-5 months), medium sized tigers (6-9 months), the large cats (10-20 months), and a combo of viewing all 3. It can get quite busy, so try to arrive early. Entering the play area is exciting, nerve racking and surreal all at the same time. The tiger cubs are lots of fun to play with, whether they're ruff-housing with each other or sprawled out on the floor posing for photos. The staff immediately gives directions about how to safely pose and pet the tigers, after all they are still wild animals. Being in the same cage with tiger cubs is a once in a lifetime experience and I recommend making the trek when you're in Chiang Mai.
6. Prison Massage – Not many people can say they've received a Thai massage from a convict?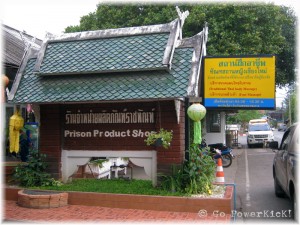 If you visit Chiang Mai you can cross that one of your bucket list. Across the street from the Women's Correctional Facility is the Prison Product Shop. Here, similar to a work-release program towards 'rehabilitation,' the inmates are allowed to practice Thai massage. The prisoners work and develop skills as masseurs, accumulating money for after their release. The massages are fantastic, both full body and foot, and the prisoners are very hospitable. Depending on the level of English of your masseur you might be able to have a short conversation, possibly finding out the reason why she's serving 'hard-time.'
Comments
comments
More Good Reads!










Share
About Author
(0) Readers Comments