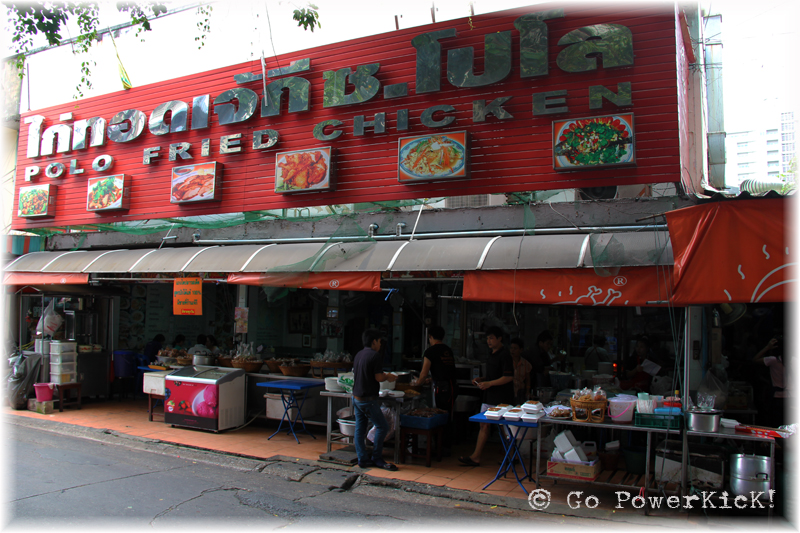 Fried chicken and garlic….if you want it Bangkok's got it. From 7-11 store fronts to Sky-Train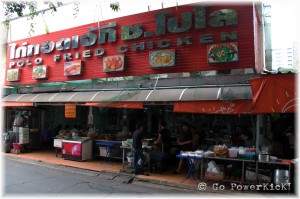 station landings to sidewalks in business areas; Thai street vendors fry some of the tastiest fried chicken and garlic on the planet for breakfast, lunch or dinner. It's hard to believe that Harland "Colonel" Sanders didn't spend some time in Thailand learning their frying techniques before deciding to fry his own chicken with his coveted blend of herbs and spices. Maybe the original KFC was actually TFC, Thailand Fried Chicken…just a thought.
Starting out as an unassuming street cart catering to Embassy workers and local sport club members on "Wireless" Road in Bangkok, Polo Fried Chicken is now well known for its delicious fried chicken at extremely reasonable prices. 4 decades of top-notch fried birds along with assorted northeastern treats helped build their reputation to become what is now a Bangkok institution. Their reputation for delicious chicken has such a far reach that the narrow street where they're located has been co-named 'Soi Polo.' Now, if that doesn't say something then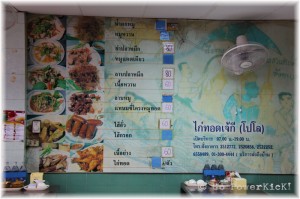 I'm at a loss for words.
After expanding from their original cart, Polo now occupies most of the Soi and diners have a choice of eating in the open-air storefront on plastic stools or sitting in their newer air conditioned dining room. I decided to keep it local and sit in the open-air section at one of the metal tables on a plastic stool. You can't miss the smell of fried chicken when you walk in or the life-sized menu posted across the entire wall. Don't worry, a smaller version is offered at the table so you won't have to stare through fellow diners while you decide on your order. The first page of the menu features their signature fried chicken, either a half or a whole bird for 90 or 180 baht. The remainder of the menu is filled with standard northeastern Issan classics; which means be prepared for lots of spicy salads, spicy soups, spicy fried fish and Bar-B-Q'd meats and sausages.
After some serious consideration I placed my order of a full fried chicken, Som Tam (spicy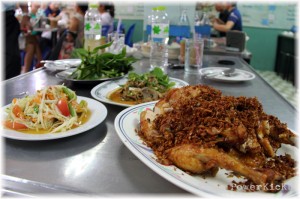 papaya salad), Nam Toke Moo (spicy grilled pork salad) and sticky rice. Since it was only 11:30am I shied away from a cold Chang beer and instead went with ice water to wash it all down. Bottles of water are available on the table and the wait staff is quick to bring over glasses of ice.
The food arrived almost as quick as the ice and was accompanied with traditional sides of cabbage, basil and string beans. The spicy papaya and pork salads looked freshly prepared and had a spicy, zesty and citrusy aroma. Taking one look at the chicken immediately brought on thoughts of Thanksgiving. The bird was large and the skin had a nice golden brown color to it. Heavy scoopings of deep-fried garlic came showered over the chicken. Two words come to mind to describe it, mouth watering. It looked so good I didn't know where to start, however, that didn't last long.
I grabbed a 4 finger helping of sticky rice, tore off a piece of chicken with some skin and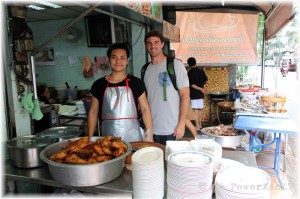 scooped up crispy bits of fried garlic with the rice. I pressed it all into a ball and took a bite. The meat was tender, moist and juicy and the crunch of the crispy garlic created a supreme combination. The skin and garlic added a tasty salty flavor that seemed to put my hands on auto pilot going back for more. It wouldn't be Thailand without a side of sticky rice, and it did a great job doubling as a spoon and a sponge, picking up and holding all the flavors together. Coming up for air from the chicken, I mixed in spoon fulls of Som Tam and Nam Toke. The three plates together were an awesome combo and I soon realized how they earned their reputation. My entire meal cost around 300 baht, $10, and I was overly satisfied. Whether your craving comes at breakfast, lunch or dinner Polo has you covered. The kitchen is open and stays busy from 7am to 11pm.
A trip to Bangkok might not be complete without giving Polo Fried Chicken a try. To find it is real easy. You can take the BTS to the Phloen Chit station then head south on Witthayu 'Wireless' Road for about 1/4 of a mile. Keeping Lumpini park on your right you'll want to look for the sign for Soi Sanam Khli, 'Soi Polo.' Turn left and walk about 100 yards and you can't miss it on your left! Here is a map of their location.
Comments
comments
More Good Reads!










Share
About Author
(0) Readers Comments