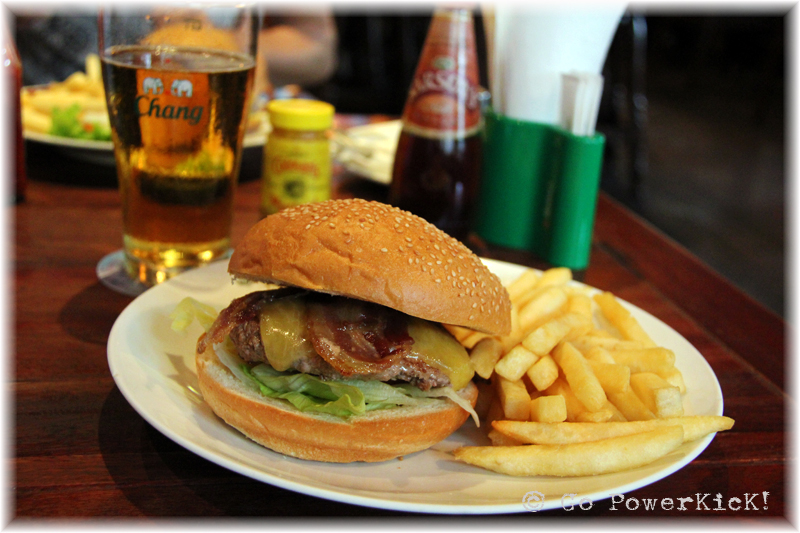 The Cheeseburger with Bacon
Smack in the heart of Sukhumvit Road, conveniently located right at exit 5 of the Phrom Phong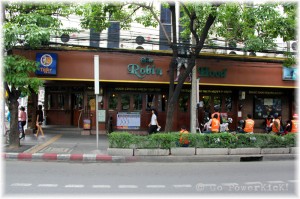 BTS stop on Soi 33/1 sits The Robin Hood. With its dark wooden carpentry and a dimly lit ambiance, getting the feeling you're out of Bangkok and back in your favorite English tavern is easy to do here. For over 10 years The Robin Hood has been catering to both expats and locals alike; from those on holiday to those in town for business and even local motorbike taxi drivers. With its two levels, which include a pool table, a traditional wooden bar, and an assortment of flat-screen TV's, the dining atmosphere is quite relaxing. Their burger menu is not overly extensive, however, it does offer a few appetizing choices. Hamburgers and cheeseburgers range from 280 to 300 baht; and if you're feeling up to it you can try Little John's Giant Burger which comes loaded with toppings for 360 baht. All burgers are made from Thai beef and come in a tasty 80/20 blend of beef and fat.
Staying true to form I passed over the Little John Burger, which did catch my eye, and went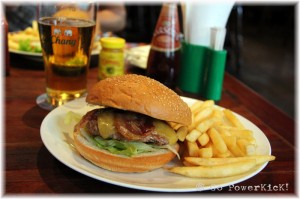 ahead and ordered the Cheeseburger with bacon, cooked medium rare. All burgers come served with fries, so I was all sorted out. Weighing in at a sizeable 180g, the paddy arrives at the table plump and ready to eat. When I inquired about the blend of spices in the burger, both the chef and manager kept a straight poker face and wouldn't let the secret out. I tried playing "Name that ingredient" like they do on Top Chef, but after salt and pepper my guesses went unanswered. However, I did learn that they get their buns and produce delivered fresh daily which they use on all burgers.
The combination of a thick sesame seed bun along with an oversized looking paddy had my eyes thinking I may have gotten my stomach into trouble. The Cheeseburger came with a
healthy layer of mozzarella cheese which was topped with two thick slices of bacon. It's not too often that mustard is brought as a condiment to the table in Asia, so, when I saw the Coleman's mustard I knew what to do. I quickly got my knife, lathered up the bun and added some on my fries. I finished adding additional condiments and was ready to dive in for bite number one.
The first bite had what I was looking for. Flavors which woke up my taste buds and juices which seeped out the sides and back. I noticed that the bun was slightly toasted and crispy along the edges. This was a nice compliment as it helped soak up the overflowing juices from the cheese, bacon and beef. I paused after bite one to enjoy the taste and wash it down with a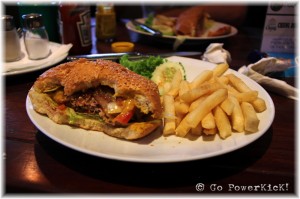 gulp of beer. I got back down to business and by the time I realized it I was on my final bite. This burger was one of the juiciest I've had in Bangkok yet. Surprisingly, the bun held up well against the messy goodness from the burger and didn't get overly soggy and fall apart. A well put together burger with good taste and a good price.
If you are in search of a good 'ole burger, then give The Robin Hood a go. The pub is open from  9.00am to Midnight and takes food orders up til 11pm. A few other perks make the experience at The Robin Hood a good one; there is a 4-7pm happy hour everyday and on Monday's they offer Bangkok's Best Pub Quiz starting at 7.30pm. It's free to play and you can even win fun prizes!
Score Card
Burger Juiciness –  4 /5
Bun Goodness –  3/5
Cheesy Madness –  3/5
Overall Tastiness –  3/5
Price –  4/5
Overall Rating – 3.5/5

Comments
comments
More Good Reads!










Share
About Author
(0) Readers Comments