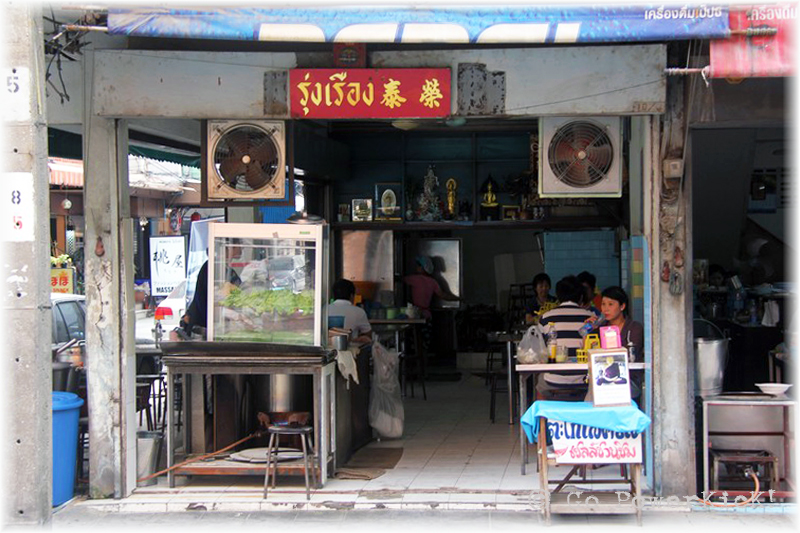 From Soi 1 to 101, Sukhumvit Road is lined with vendors selling just about everything you can imagine to eat.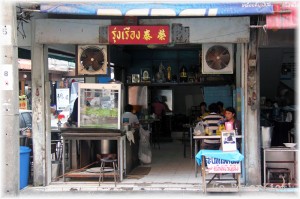 The most prominent Thai staples for sale are fried chicken, som tam (papaya salad), curries and soups. If you know where to look you might just find your new favorite 'restaurant.' I recently stumbled across a great noodle shop while walking down Sukhumvit Road. I decided to let my stomach direct me and we hung an unintended left on Soi 26 to explore somewhere new. As I walked along I passed a gas station on the left and a few shops on the right. I wasn't sure what I would find, however, sometimes the most unassuming spots have the best food.
About 500 yards down the road I came across two shops right next to each other. At first glance it looked like they were selling noodles and soups. I peeked in and after seeing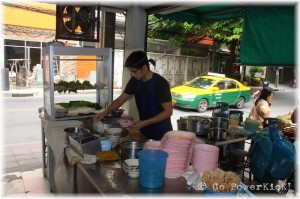 assorted sizes of noodles and steaming vats of broth I confirmed they were indeed serving noodle soups. The smiling faces of the staff, the pleasant aroma and the satisfied look on the faces of customers led me to believe I'd hit the jackpot. I walked in and found myself a seat on a small stool at an empty table. There's something about sitting on these small stools that lets you know you're about to get a fantastic meal. Since I couldn't read the Thai menu, to get an idea of what type of soup was being served I glanced around at a few of the other tables. It looked like the house specialty was Kuay Teaw, which is noodles, large or small, served with a choice of meat and/or fish balls and some veggies. A very brief conversation with a waitress informed me the soup can be ordered with or without both and can also be flavored with tom yum seasoning.
My order was in, Sen Lek Guay Teaw Moo Tom Yum, small noodles (sen lek) with minced pork and the tom yum broth. I didn't have to wait long for my order to arrive and I was able to watch the chef create his masterpiece step by step from my seat. When the soup arrived it looked delicious. It was loaded with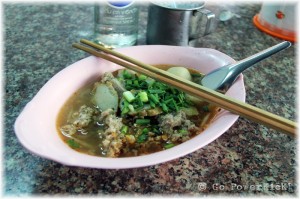 minced pork, a few fish balls, some extra slices of fish then topped with chopped green onions, fried garlic, some peanuts and bean sprouts. The broth had a slight red-ish tint to it from the chilies and seasoning. The smell was inviting and had a sweet citrus hint. My first bite was a spoonful of pork, green onions and some broth. Immediately bringing my mouth to life were the spicy, tart, and salty flavors. I hardly wasted any time going back for bite number 2. The noodles were a nice addition as well, and of course mixed well together with the pork, peanuts and broth. I couldn't get enough and briefly considered ordering a second bowl. For 50 Baht, about $1.50, this was definitely a steal.
While finding noodles and soups is relatively easy in Bangkok, its finding places like this which make the eating experience truly one of a kind. Hidden all over the city are undiscovered carts and shops just like this one. Now knowing about this shop, called Rung Rueang, I am going to do my best to become a regular!
Comments
comments
More Good Reads!










Share
About Author
(0) Readers Comments