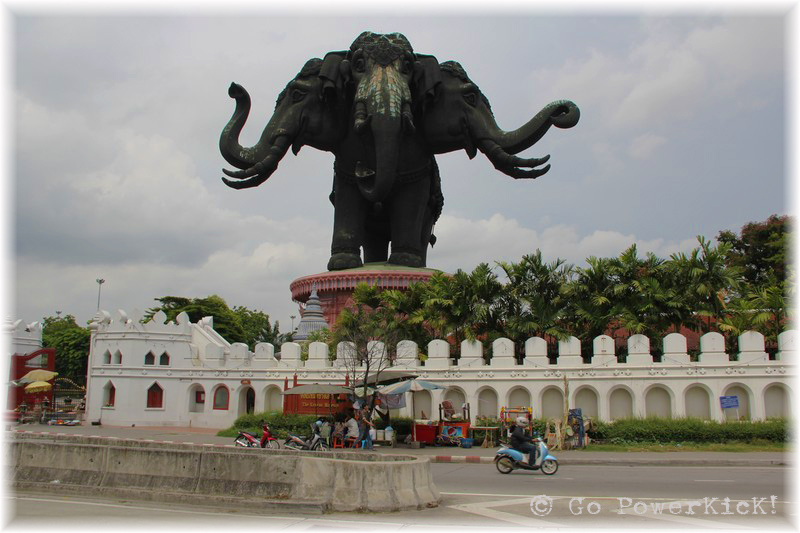 Dominating the sky line en-route to Samut Prakarn is 'The Elephant of The Universe.' A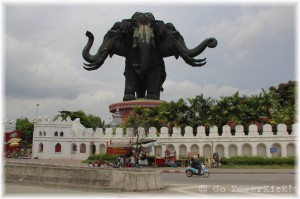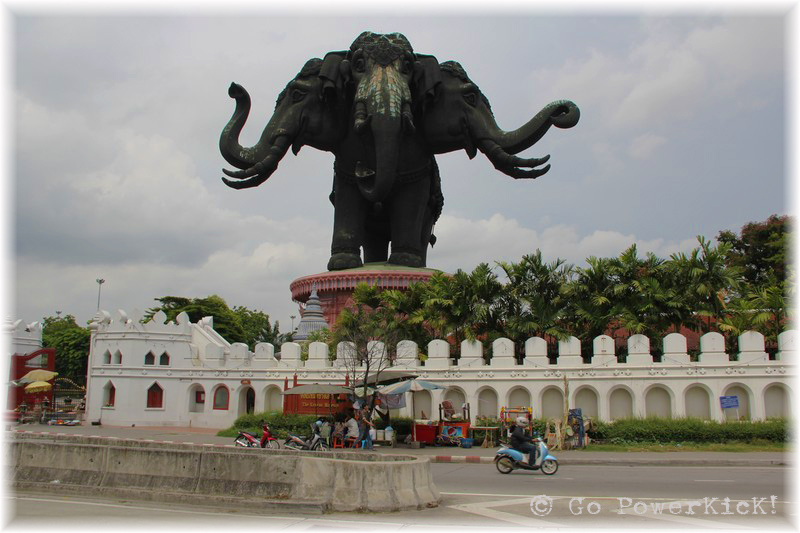 mythical story about the god Indre and his personal elephant called Erawan inspired Khun Lek Viriyaphant, the creator of Ancient Siam, to build the Erawan Musuem. The 3-headed elephant stands roughly 43 meters high, about the size of a 17-story building, and is the largest free-standing elephant in the world. Weighing a staggering 250 tons, the body weighing 150 tons and the head weighing 100 tons, its exterior is fully covered in brass. Using brass was no accident. Khun Lek knew when brass ages it takes on a slight green-ish tint, which he felt would make the elephant's skin look more realistic and come to life as time passed. His vision of The Erawan Museum was for it to be a place where Thai heritage, culture and religion could be preserved and shared. The grounds provide shaded tree cover with a small stream running through. This clam and peaceful environment is perfect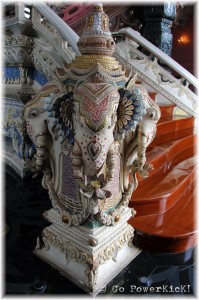 for strolling or sitting to reflect. Situated along the stream are different statues of Buddhist and Hindu mythology.
The elephant stands on a large lotus shaped pedestal and consists of 3 floors. The lowest floor, 'the underworld," showcases priceless artifacts of Thailand's heritage. Earthen, stone and porcelain wares of the Siam Kingdom tell the history of early trade routes through the region. Here the skilled craftsmanship of the early Khmer and Sukothai periods are on display. Also on display is the influence from China with the presence of benjarong pottery found throughout the Kingdom. The lower floor also provides detailed description of the history and construction of the museum.
Moving up to the second floor you enter the 'the world of human being.' This floor takes Thai craftsmanship to an entirely new level. Magnificently decorated in a Thai benjarong ceramic style, the attention to detail will stop you in your tracks. Elephant heads and mythical figures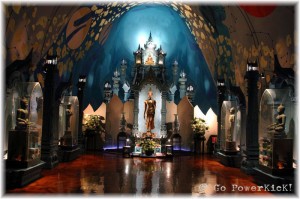 with intricately laid ceramic pieces adorn the base of the staircase and the rails leading up. 4 pillars serve as support for the elephant, each representing one of the world's major religions. A Mahayana Pillar, a Brahma-Hindu Pillar, a Theravada Pillar and a Christian Pillar all offer a short history and highlights of the faith. If you look upwards toward the ceiling you'll see a colorful mosaic of stained class in the shape of a world map.
Climbing up a spiral staircase leads to the top floor occupying the head of the elephant. Prior to reaching the head, you can take a brief pit-stop in the belly. Here there is a small window which serves as an observation point. Looking out gives a pretty good perspective of just how high up you really are. Continuing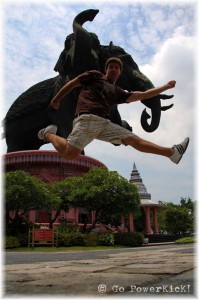 up the stairs you enter 'the floor of paradise.' This floor contains a shrine with a standing Buddha in front and a smaller seated Buddha behind. Both sides of the room have 4 Buddha statues, each in a different positions and from varying periods of Thai history. The cool air and the soft ambient music in the background make it easy to feel as if you've walked into a 7th heaven.
The museum is easily reached; either a straight shot down Sukhumvhit Road by taxi or taking the BTS to the Bearing station followed by a short taxi ride. The museum is open daily from 8am to 6pm and offers guided tours, the last of which begins at 5pm. Admission is relatively inexpensive at 150 Baht for adults (300 Baht for tourists) and 50 Baht for children. A quick day trip from Bangkok and you'll uncover another of the city's hidden treasures.
Erawan Museum
Comments
comments
More Good Reads!










Share
About Author
(0) Readers Comments