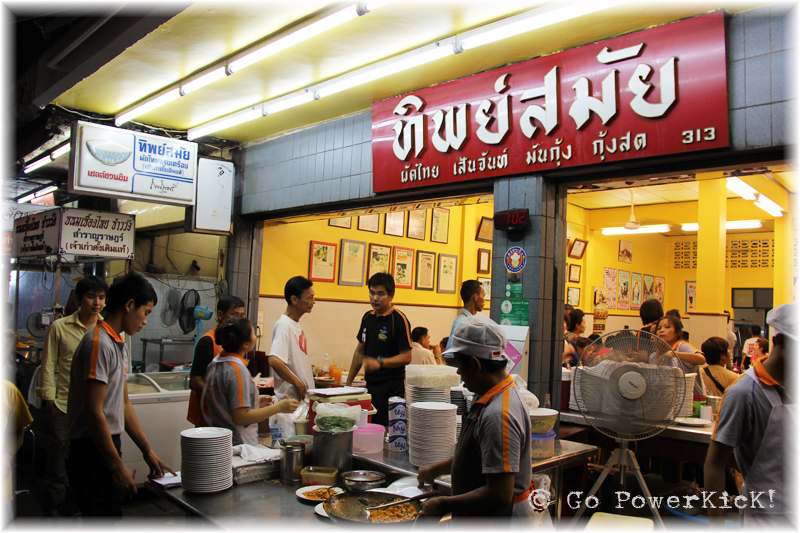 Pad Thai is one of Thailand's most popular dishes and can be found easily at many street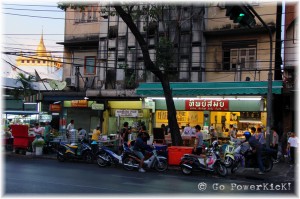 vendors throughout the country. When I first arrived in Thailand pad thai or fried rice were go to dishes, however, it only took a short time living in Bangkok to learn that beyond pad thai and fried rice exist some extremely tasty items. It's been a little while since I've had a plate, so when I heard about a noodle shop known for serving the best pad thai in Bangkok I had to give it a shot.
Down the road from the Grand Palace and just around the corner from the Giant Swing is a noodle shop that's become the go-to spot for pad thai diners. Beginning as a street cart, Thip Samai Noodle Shop has upgraded to a full service restaurant complete with indoor and outdoor (sidewalk) seating. Known for serving up delicious dishes, they also claim to be the originators of 'wrapped pad thai.' This is a full serving of noodles with all the fixings wrapped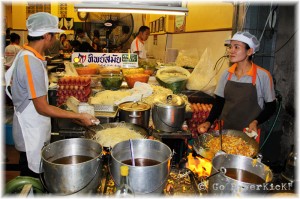 in an ultra thin layer of egg, similar to an omelette, then garnished with cilantro and red pepper. It sounded appetizing to me, yet I was in the mood to try their original. I wanted to see and taste what put Thip Samai on the map.
When the waitress came to take my order I went for the 'pad thai goong sot,' translated as pad thai with fresh shrimp. My table was near the two woks out front where all the magic was happening. As I waited for my order I stood up and peeked into the 'kitchen' to see if I could figure out their secret. Fistfulls of noodles, carrots, bean sprouts and green onions were tossed into the fiery wok. Add in a few eggs and some fish sauce and it was frying time. The chefs moved the mixture around the wok with ease and I could tell their practice had made perfect as they knew exactly what they were doing. Watching was making my stomach howl.
When my order arrived it looked and smelled scrumptious; big shrimp and fresh veggies mixed together with shiny thin flat noodles. Accompanying my order was a plate of green onions,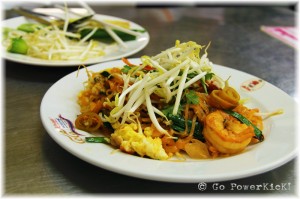 bean sprouts, cut banana blossom and two wedges of lime, which can be added to taste. On the table were all the traditional condiments: sugar, fish sauce, peanuts, dried chili powder along with vinegar and yellow peppers. I knew it probably didn't need it but habit kicked in and I added peanuts, sprouts, peppers and lime. Now it was time to eat!
After the first bite I knew exactly why Thip Samai's reputation precedes it. The food is fantastic and full of flavor. Inside the restaurant you can feel the history, which gives the atmosphere and dining experience a truly authentic feel. For 60 Baht, roughly $2, I was thoroughly satisfied. Menu items range in price from 30 to 60 Baht, quite a steal for the size and taste. Thip Samai is easy to find on Mahachai Road between the Golden Mount and the Giant Swing and they stay open from 5pm til 3am. If you're in the area after a day of sightseeing or simply walking around hop in a tuk-tuk and head over; it's a great experience and your stomach will thank you for it.
Thip Samai Noodle Shop
Comments
comments
More Good Reads!










Share
About Author
(0) Readers Comments