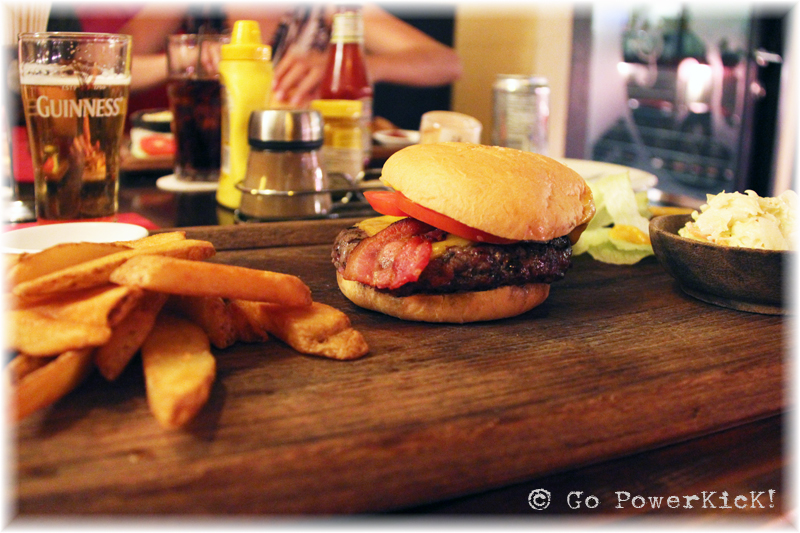 The Plain Burger with Bacon and Cheddar Cheese
For over 25 years Woodstock Bar & Grill has been keeping the bellies of expats and locals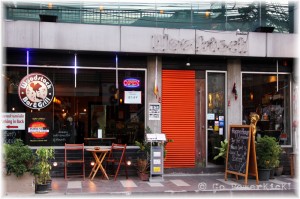 in Bangkok filled. Located in the Thonglor neighborhood, Woodstock's is just a short walk or a quick motorbike ride down from the BTS station on Soi 13. The greeting at the door gives a good introduction to their home style feel. With a name like Woodstock's one may think music would be the top priority. To the contrary, while the touch screen jukebox continuously pumps out non-stop classics; the menu of American, Mexican and Thai food is equally as rich. On the menu the burger family has 8 members; reading through the descriptions each sounds more mouth watering than the next. Burger connoisseur? Not to worry, designing your own burger is an option if you're unable to find a suitable choice on the menu.
All the beef in the burgers at Woodstock comes from the reputable Thai-French Butchery on Sukhumvit Road. Patties are made by hand in house and each burger is seasoned with a different blend of herbs and spices. Burgers are served in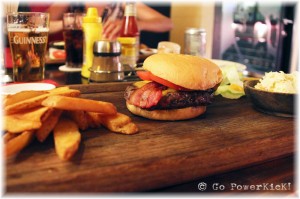 180g patties, which aren't monsters, but will leave you satisfied. Prices range from 225 to 325 Baht depending on your choice of burger. Additional toppings can range between 15 to 30 baht for bacon or jalapenos and 40 to 50 Baht depending on the choice of cheese. Buns are baked in the kitchen every 2 days keeping them soft and fresh. Looking over the menu a few burgers caught my eye, however, my eyes kept returning to the burger that started it all. The Plain Burger is the original Woodstock burger that had customers coming back again and again. It's the original, so I had to give it a shot.
I ordered The Plain Burger cooked medium rare. To keep consistent I chose cheddar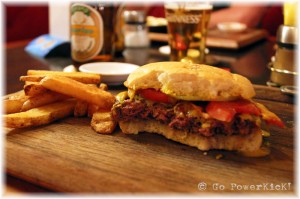 cheese and bacon as my toppings. Its been a long time since I've seen it served in a restaurant; so when the waitress brought mustard to the table along with the condiments I knew I was in for a treat. The burger arrived on a butchers block flanked by sides of crispy steak fries and coleslaw. After a brief moment of admiration I reached for the mustard and lathered up the bun.
Mustard applied and I was ready to dive in. From the first bite till the last the flavors spoke loud. In the patty I tasted a blend of thyme, oregano, salt and pepper. I wasn't expecting these flavors, yet I was not disappointed. The bacon, lettuce and tomato were crisp and fresh; offering that backyard 4th of July BBQ feel. The cheese was a New Zealand cheddar and was sharp and rich. Cooked to a proper medium rare, the juices overflowed in every bite. Mixing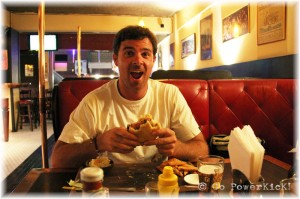 mustard, bacon, cheese and burger, each bite was better than then next. The bun was firm and did a great job holding the juices in. It didn't break apart and the final bite, saturated with juices, was a flavor explosion. Knowing now that adding your own toppings to the burger is standard, I think I'll go with a double order of bacon and cheese on my next burger.
A conversation with management at Woodstock's will key you in to the passion put into each dish. I spoke with the owner Peter and asked what was unique about Woodstock burgers, he said "Consistency." This was my first time here, but I have no doubt if I return I'll enjoy a repeat experience with a flavorful home made burger. Woodstock's is also home to a burger challenge. If you can eat their "Fat Bastard" burger in 20 minutes or less and you'll earn the prize of a Plain Burger to take home on the house! Woodstock's is open  Monday – Sunday from 11am until 1:30am.
Score Card
Burger Juiciness –  3/5
Bun Goodness –  2/5
Cheesy Madness –  2/5
Overall Tastiness –  4/5
Price –  4/5
Overall Rating – 3/5

Comments
comments
More Good Reads!










Share
About Author
(0) Readers Comments