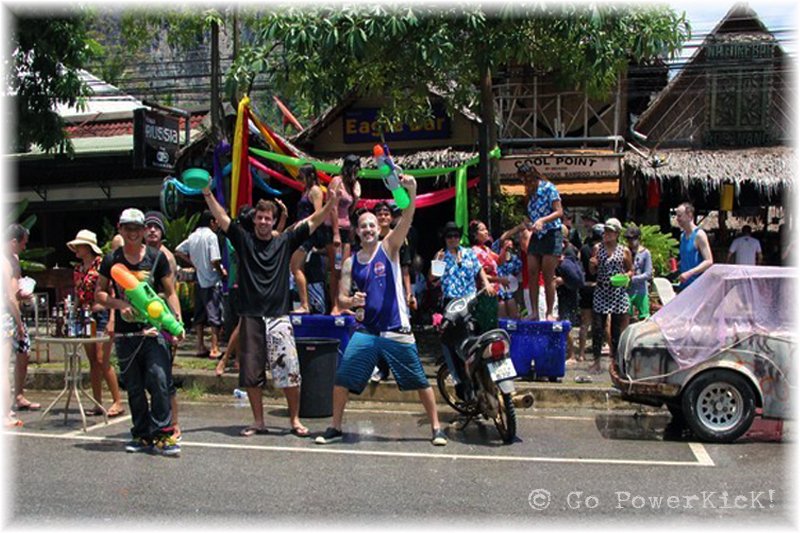 The Thai New Year celebration is unlike any around. During mid April, Thailand's hottest part of the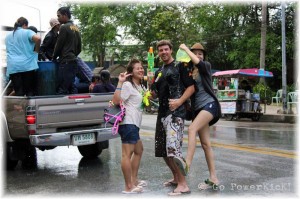 year, the world's largest water fight erupts to ring in the new year. The Songkran festival not only unites a nation but also draws visitors from around the globe who come to experience the unique festivities. Celebrated from the 13th to the 15th of April the festival coincides with the astronomical change in the position of the sun, from Aries to Taurus. Based on historical traditions this is seen as a time of new life and new beginnings. As a form of celebration water was traditionally poured on the palms and heads of both old and young alike. This ceremony was performed to cleanse the body and wash away bad spirits or bad luck from the previous year. At the heart of Thai culture is the feeling of 'Sanook.' This feeling can be found in all things Thai, especially festivals. The evolution of Songkran to its present form is the pure embodiment of the word, FUN! For three days across the country locals and visitors smile and laugh as they soak each other in a jubilant
water fight.
I spent last year's festival in the northern city of Chiang Mai. This year I decided to head south to Krabi with my buddy Annile to see how Songkran was celebrated in the iconic beach town of Ao Nang. Last year I was soaking wet for 3 days, and it was unparalleled fun. However, last year I wasn't attempting to document the experience. After a hearty breakfast of Ka-Pow Moo Kai Dow (spicy stir fried chicken & basil, served with rice and a fried egg) the 1st mission was water proofing the camera. I knew it was just a matter of time until I was soaked, and I wanted to have the camera secured so I could return the soaking without worry.
With the camera locked and loaded in the dry bag it was time to search for our weapons of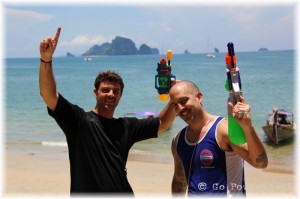 choice. The available firepower ranged from small pistol like squirt guns to multi-chambered super soakers. Personally, I find a bucket to be the most effective weapon. We both chose mid level single-chamber squirt guns and headed out to join the fun. It didn't take long before we were caught in the cross-hairs of dozens of Songkran marksmen. Half a block down the road and we were both drenched. We shot back in retaliation to the sights of ear to ear smiles and the sounds of roaring laughter.
I decided to put the gun down and take the camera out so I could get some photos of the fun. With literally nowhere safe from the water, trying to get photos was like a continuous game of Frogger. Diving into the middle of the fight, dodging the sprays of water guns, then diving out again; all while trying not to sacrifice the camera. I found a few safe vantage points which were out of the waters direct shot. From the 'safe' distances I had a great view of the celebration. I could see young kids using hoses to spray motorbikes as they rode by, pick-up trucks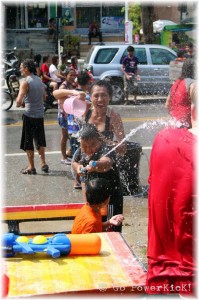 filled with locals armed with 50 gallon buckets of ice cold water and pedestrians who took their chances and went in for up close and personal body shots. After snapping a few memorable photos I had to put the camera away and dive back into the madness.
When I stepped back into the action we had reached an area where locals were displaying another way of passing on a traditional new year's blessing. We were both the recipients of a cream-colored menthol infused paste spread across our cheeks, foreheads, necks and arms. The paste is seen as protection and a promise to ward off evil. White was the prominent color, however, oranges and reds were also being passed out. Looking around we could see bright Thai smiles, beautiful colors, laughter, singing, dancing and water flying everywhere; this was the essence of Songkran. Playing Songkran in Thailand is an experience like no other. The old fashioned water fight fun mixed with regional tradition will have this festival leaving lasting images in your memory and a perennial smile on your face.
Sa Wat Dee Pi Mai – Happy New Year Thailand!
Comments
comments
More Good Reads!










Share
About Author
(0) Readers Comments